---
DOES YOUR CHILD SCRIBBLE ALL OVER THE HOUSE?
LET THEM ENJOY THEIR ART JOURNEY WITH THIS!🎨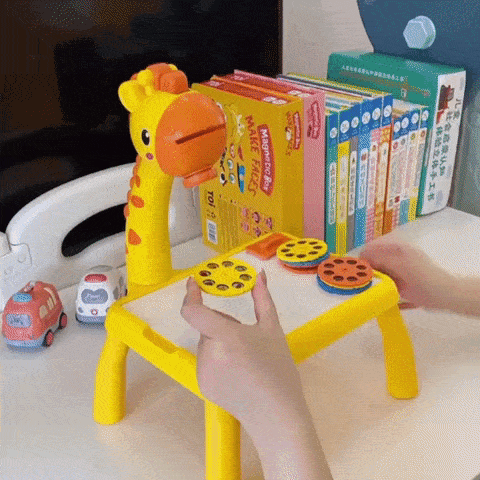 Giraffe Projector Drawing Board
Promote children's interest to drawing and writing, drawing creation is the key to develop children's imagination and concentration, projection board makes children interact create with parents
Removable Thick Outer Octagonal Table Base
Made of high quality plastic, the tablet leg is thick, Stable and easy to install, so it is able to become the children's drawing tablet in minutes
Projection View and Drawing, Can Be Wiped By Drawing Board Cloth
Baby can graffiti what he/she see or think, just use the plate rub to wipe cleanly
Listening Music While Drawing
Turn on the power button, one gear for projection, one gear for listening music, children can draw while listening the music, provide a better surrounding environment for children
Put the White Paper To Copy Drawing
Project the pattern on the board and copy drawing, Help and encourage children to learn to draw, paint and draw while playing. This is an intellectual toy that can not only improve children's practice ability, but also can play game.
Funny Projection Easy Copy Drawing
Install the card, can copy drawing many cartoon patterns
Smooth Rounded Edge Design
Finely polished and all edges are 360° chamfered, safe and smooth without burrs, protect children from scratch
Instruction
1. Put three AAA batteries
2. Install the projection head on the board
3. Put the card on the head
4. One mode: Projection
Second mode: Projection+Music
Package List
1 * Projector Drawing Board
3 * Project Cards
12 * Drawing Pen
1 * White Drawing Book
1 * Wipe Cloth